It's always disappointing to see a favorite series end, even if it is just a break between seasons. But with more and more shows and being adapted from comic books, the transition from the screen to the page is a natural one. Of course, fans of shows like
Arrow, Agents of SHIELD,
or
The Walking Dead
have a built in canon to return to once each season ends. For those of us who aren't so lucky, or would like to avoid spoiling future seasons, try the following comics to satisfy your pop culture void. Whether you're a fan of fantasy, science fiction, or just like a good read, you are sure to find something you will enjoy!
Mythbusters → What If? by Randall Munroe
What If?
is the most recent book by Randall Munroe, the creator of the online comic
XKCD
. This isn't a traditional comic, but more of a pictorial account of extreme hypothetical situations. Illustrated in stick figures, the visuals may not be as satisfying as the fiery demonstrations commonly put on by the Mythbuster team, but Munroe is just as skilled in pushing the boundaries of feasibility. In this book, Munroe provides "serious scientific answers to absurd hypothetical questions" posed by his readers. If you've ever wondered what would happen if the world suddenly stopped turning, or if your own morbid curiosity has led to you cause damage to yourself or your property, you will definitely enjoy this book.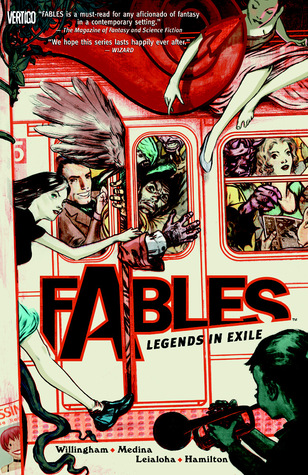 Once Upon a Time → Fables by Bill Willingham
This series of graphic novels from Vertigo is a great fit for any fan of reimagined fairy tales. After being exiled from their homeland, the inhabitants of folklore and fairytale migrate to New York City, where they create their own community called Fabletown. But this magical haven is not immune to the crime of the big city, and has its own unique struggles as well. Murder, corruption, and a mysterious conspiracy plague the fable community, and it is up to sheriff Bigby Wolf to sort it all out. Legends in Exile is the first volume of Willingham's ongoing epic, and collects the first 5 issues of Fables.
Gravity Falls → Lumberjanes by Grace Ellis & Noelle Stevenson
Lumberjanes
is perfect for those kids at heart who love a good ghost story. Co-written by newcomer Grace Ellis and the acclaimed creator of
Nimona
Noelle Stevenson, this all-ages comic follows five friends through their adventures at camp Lumberjane. Together Jo, Ripley, April, May, and Molly will earn camp badges by solving mysteries, fighting monsters, and being all-around awesome. This fun and empowering graphic novel is perfect for adults and kids alike. Volume one collects issues #1-#4 of this ongoing comic from Boom! Studios.
Deadwood/Carnivale → Pretty Deadly by Kelly Sue DeConnick
If you enjoy Westerns but think they could use more supernatural flair, then
Pretty Deadly
is the book for you. Set in the Old West, this comic begins with a story about Death, his lover, and his daughter. This tale is told by Sissy and Fox, a pair of traveling storytellers. But they are not alone, as Ginny, the lover of Death himself, is trailing them. Over the course of the series, Fox must atone for the sins of his past, and Sissy must discover her future. Full of superstition and folklore,
Pretty Deadly
is a masterpiece of the supernatural western genre. The first volume,
The Shrike
, collects the first five issues of this ongoing comic.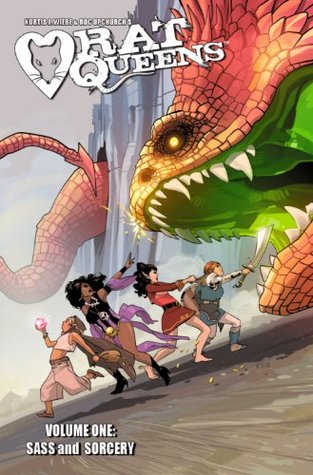 Game of Thrones/Galavant → Rat Queens by Kurtis J Wiebe
Wiebe created his fantastical comedy
Rat Queens
with fans of high fantasy and traditional tabletop games in mind. This comic both mocks and celebrates these genres in an epic that combines the humor of
Galavant
with the intrigue of
Game of Thrones
. The Rat Queens are a rowdy gang of adventurers comprised of a human cleric, an elven mage, a halfling thief, and a dwarven warrior. In Sass and Sorcery, the first arc of this ongoing comic, this unlikely troupe of friends must defend themselves and other adventuring parties from a league of assassins set on exterminating them all. This collection contains issues one through five, and volume two is set to be released this month.